Hop On Board The BenQ Bus: Driving Collaboration Forwards
Bringing the BenQ portfolio of educational technology solutions directly to the doors of education establishments, completely free of charge!



Schools, Academies, Colleges and Universities can book for the BenQ Education Roadshow to visit them directly, minimising time away from campus, eliminating travel expenses and reducing carbon emissions.




Experience BenQ products in action, discover first-hand how to create a complete solution and discuss bespoke integration to your site.

Book a BenQ Roadshow Visit for your School, College or University!
RM Series
Designed to tap into the dynamic possibilities of the classroom and help teachers build a healthy and engaging learning environment. Comes with Eye-Care solution, also installed with proficient cloud whiteboard for enhanced class participation and foster collaboration with students beyond locations and platforms.
RP Series
Designed to build an engaging, healthy teaching & learning environment. Installed with proficient cloud features including cloud whiteboard, it enhances class participation and fosters collaboration beyond locations and platforms. Advanced air quality sensors, germ-resistant screen, and eye-care solutions, allow you to learn healthily.
CP Series
Designed to tap into the dynamic possibilities of the modern meeting room and help businesses develop and maintain an environment where ideas flow freely. It allows for extended, seamless team collaboration, stimulating more innovative ideas and is perfect for fostering collaboration then turning your creativities from abstract to real.
RE Series
Your ultimate interactive display to achieve a touch-enhanced, and connect entire class for a smooth and fun learning experience. Not only does RE7501 come with Eye-Care solution, but it is also installed with proficient cloud whiteboard for enhanced class participation and foster collaboration with students beyond locations and platforms.
Browse the full range of BenQ Interactive Displays
CASE STUDY: BURNLEY COLLEGE
74x RE7501 | PROJECT VALUE: £200K
BenQ RE Series transforms teaching and learning for Burnley College Sixth Form Centre students
The Issue
Burnley College Sixth Form Centre tops the Government's achievement tables as England's number one, College for students aged 16-18. Forward-thinking College leaders pride themselves on their commitment to enhancing the student experience, particularly through investment in digital technologies to create engaging and interactive learning. The College has embarked on an ambitious project to refurbish its A-Level teaching spaces and active learning zones and, alongside stylish new furniture, were looking for the perfect front-of-classroom technology to take centre stage. The modern, bright and airy rooms are flooded with high ambient light, which called for a specialist solution and a technology brand that seamlessly integrated into its current operating systems and technology. Due to the size of the project and individual learning spaces, a remote management system was also a top priority to save maintenance time later.
View the RE7501
The Solution
The RE Series interactive display prevailed as the perfect solution for Burnley College's requirements. The 75", 4K UHD displays offer high and consistent brightness with anti-glare technology and an ultra-wide 178° viewing angle, ensuring an optimum viewing experience and overcoming inherent ambient light challenges. BenQ's built-in Smart Eye-Care technology minimises blue light exposure and provides a flicker-free image, helping to aid concentration and reduce any feelings of fatigue after prolonged screen exposure. Burnley College utilise the Google workspace, with staff storing documents and teaching materials within Google Drive. The Account Management System (AMS) enables instant access via the Cloud, allowing Tutors to access, download and upload documents from their interactive BenQ devices. This feature also allows profile customisation for an identical display interface across locations. BenQ's DMS (Device Management Solution) provides Burnley College with a management solution that means IT staff can troubleshoot and remedy displays, remotely. The IT team can perform updates for new online features to each display from a remote central location, reducing in-person contact and saving valuable time for the IT department.
The Result
The long-standing partnership between BenQ and Burnley College has seen the installation of BenQ technologies including premium displays, Google Jamboard and the new RE Series. All offer integration into the Google ecosystem, the primary operating platform at Burnley College, proving vital during the pandemic for utilising Google Classroom, as well as BenQ products providing cross-platform integration with legacy software and devices.
Download Case Study
Pete Winter, Programme Leader in CIC:
"The interactive whiteboard functionality has dramatically changed the way we teach and are able to interact with students. It makes the whole process much more collaborative and 'live', as we are able to annotate documents saved in the Cloud in real-time, with students sharing the same screen from their personal devices and also joining in. We can then save these amended documents with all the notes that we made together so students can access them whenever they need to return to that topic, such as for revision."
Matthew Nuttall, Burnley College IT Manager:
"We have been working in partnership with BenQ for over three years and are continually impressed by the quality and innovation within their display technology. The fact that our Tutors can access their Google Drive directly from the display means they can teach from any classrooms with confidence, knowing the process will always be the same. The advanced collaboration capabilities also perfectly suit our forward-thinking methods of digital engagement, taking interactivity and engagement to the next level. With social distancing measure in place, the DMS remote management solution also helps to reduce IT technician attendance in physical classrooms, as well as reducing footfall within the College."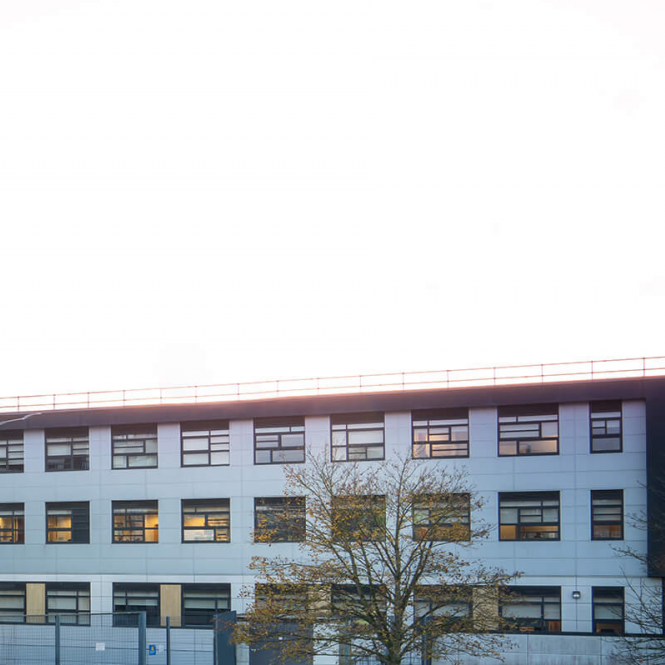 Stafford Lund, Sales Manager, Roche Audio Visual:
"BenQ's Interactive Flat Panels were the ideal front of classroom technology solution for this project. The RE7501 provides a flexible collaboration and presentation solution and is software agnostic, allowing teachers to use their preferred platforms and access all their materials instantly from the Cloud. Burnley College already uses a range of BenQ products across the site, so this uniformity gives teachers the confidence to move seamlessly between classrooms with the knowledge that the display set up will offer the same great experience in every space."
(Richard Tymon Photography, courtesy of Burnley College)
Buying a touchscreen is a big investment - we are happy to help in any way we can:
When it comes to effective learning, health matters. BenQ Education IFP ensures classrooms can embrace innovation without compromising students' health by providing air quality sensor, smart eye-care technology and germ-resistant screen:
Germ-Resistant Screen
Prevent cross-infection or epidemic in classrooms. Empowered by a multi-layer coating of the non-toxic, enduring nano ionic silver agent that kills most germs accumulating on screen surfaces. The ionic silver's antimicrobial feature remains effective even after thorough cleaning or long periods of use.
Air-Quality Sensor
Bad indoor air-quality will decrease learning efficiency. BenQ Education IFP incorporates the air-quality sensor to help monitor CO2 concentration level in classrooms, reminding teachers to adopt necessary mechanisms to keep CO2 concentration at an ideal level.
Smart Eye-Care Solution
The Smart Eye-Care solution can function intuitively with the help of the embedded motion sensor. For a smooth and comfortable viewing experience, BenQ Education IFP will automatically activate Flicker-Free and Low Blue Light features by detecting the movement of users close to the screen.
EZWrite 4.0
Pre-installed exclusively on BenQ's IFPs, EZWrite 4.0, is the ultimate annotation app designed to facilitate interactive learning with a tap. It offers multiple features, including MS Office compatibility, handwriting recognition, video recording and collaboration tools.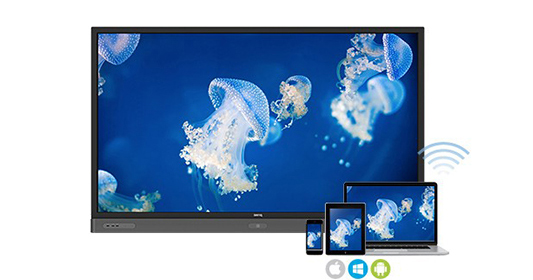 Wireless Solution for Seamless Collaboration
InstaShare is the software designed for seamless wireless presentation and collaboration during lectures. It allows the smooth streaming of visual, audio files and Full HD quality videos. Users can also mirror content from mobile devices, and invite up to 16 participants for seamless collaboration.
Account Management System (AMS)
BenQ's IFPs support multi-account management through NFC technology, which allows users to directly access their personal system-setting and folders by simply scanning ID cards with the built-in sensor, as well as easily lock screens when not in use. AMS also offers instant access to major cloud storage services without having to enter password.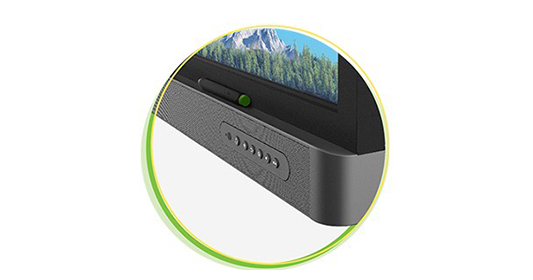 Integrated Front Facing Speaker and Tray
BenQ IFP integrates the repositioned audio speakers with the screen-length pen tray. The two front-facing,16W speakers create better sound transmission and bring more audiovisual enjoyment to interactive learning. The pen tray offers a handy place to keep IFP stylus and other tools that help enrich and smoothen presentations, providing fast access and avoiding needless interruption.
CONTACT US ABOUT YOUR SMART REQUIREMENTS