TEMPERATURE-CHECK SOLUTIONS: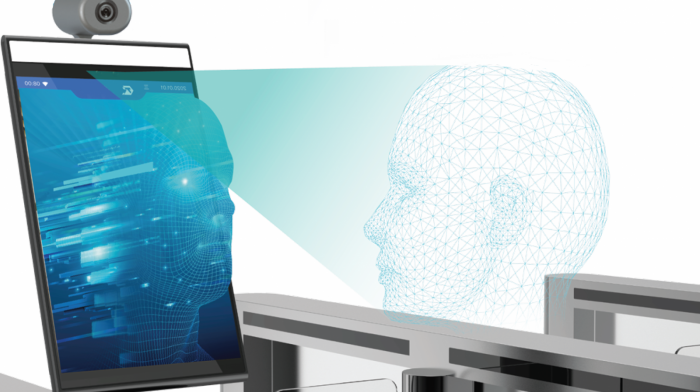 Perfect for a wide variety of Public spaces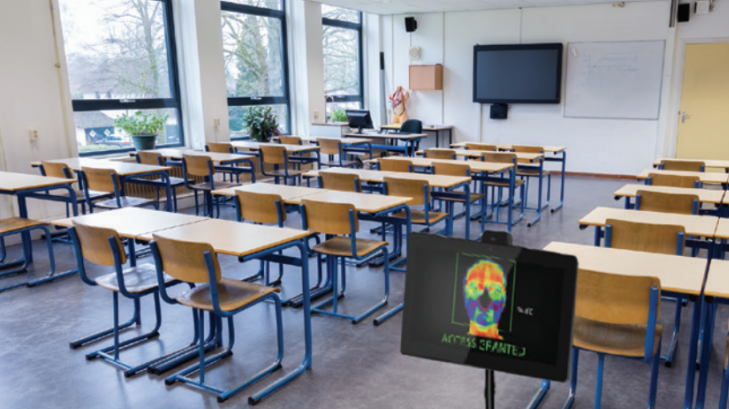 Education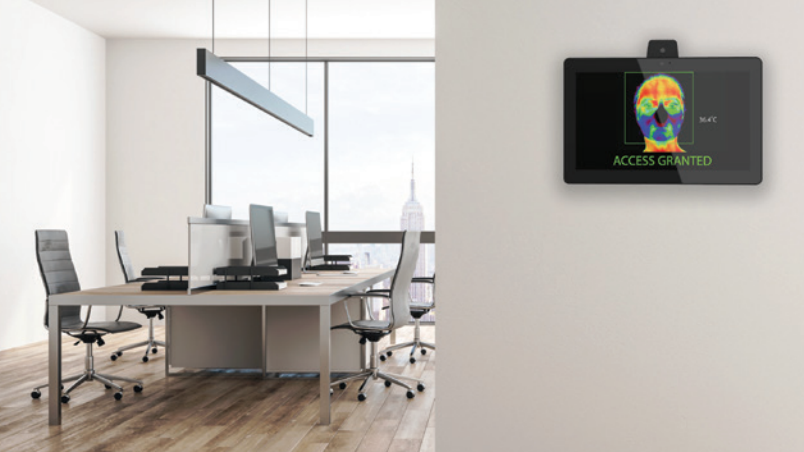 Corporate
Medical
Airports
Leisure
Restaurants
The Tauri range has 3 Sizes...
Can also be used as a Digital Signage Display to maximise your investment!
See how the Aurora Tauri product can be used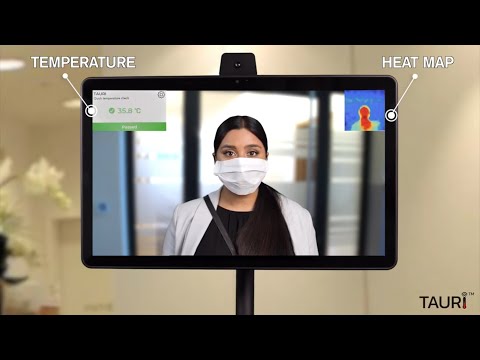 NEW - ACCUSCAN FACE DETECTION & TEMPERATURE-CHECK TABLET
10" tablet with face-detection and temperature check functionality | Can be used with access & attendance systems
Quick scan mode: records face & scans temperature ultra fast for fast moving channels like train stations & public buildings.

Face detection: detects & matches face to record log whilst accurately taking forehead temperature.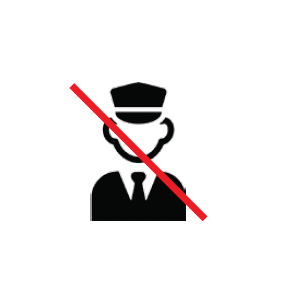 Auto-Pilot
Combine with a gate system & the Accuscan tablet can automatically control entry and non entry of personnel. Automate access via staff log and safe temperature.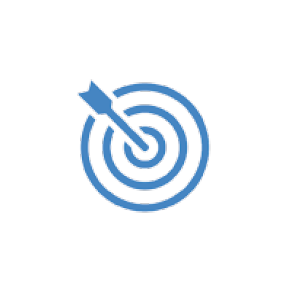 Accurate
Utilising a german made and engineered sensor the Accuscanis accurate to +-0.2 C and can be used indoors and outdoors (with appropriate weather proofing).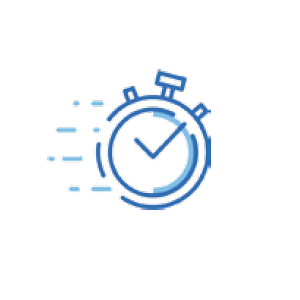 Fast Detection
Records temperature and detects face within 0.5 seconds with a passing speed to process up to 30 people per minute.
Plug n Play
Easy installation with plug n play design. Battery or mains powered. Operate via secure cloud based app or offline local.
Face Database
Supports up to 20,000 people offline for face recognition. Includes multi-spectral anti-counterfeiting in vivo detection technology.
Flexible Installation
Designed to easily install into most operating environments. Available mounts include, wall, floor, desk and gate mounts.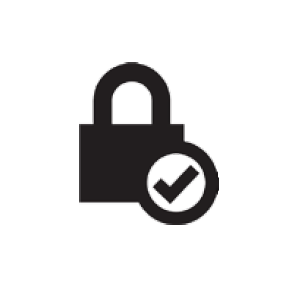 Access Management
Face recognition, identity verification under IC card & ID card mode, with anti-trailing, black & white list, early warning function for illegal pass.
3 Year Warranty
Feel secure knowing your investment is covered well and truly beyond the industry standard
NEW - INFILITE FACE DETECTION & TEMPERATURE-CHECK TABLET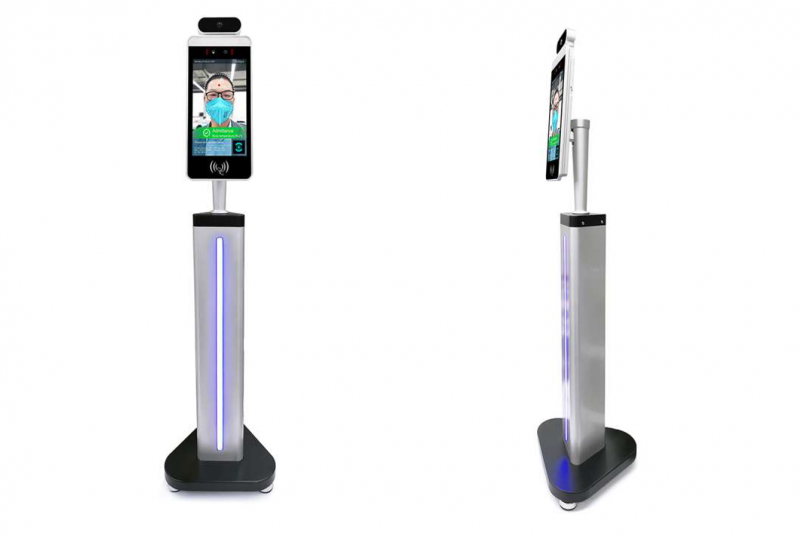 8" tablet with face-detection and temperature check functionality
Read a user's temperature and display the results in 1.8 seconds, even if they are wearing a mask. The automated nature of this system not only efficiently reduces manual labour, but also means it is completely contactless. With 99.7% identification accuracy, this solution can also be used as a check in/out system for offices, warehouses and other secure locations. You can even create a whitelist and blacklist to control and restrict access, as well as recording all building entries. Adjust the identification security levels from using the photo on an ID card to high level military standard using a 3D face scan and body temperature check.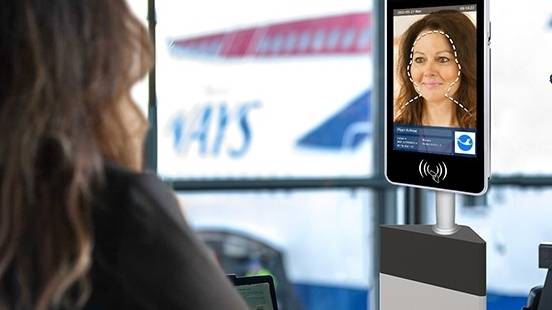 Mask Detection System
As well as reading body temperature, the system can also check if the user is wearing a mask if this is an entry requirement to your building. This feature can also be disabled if not required.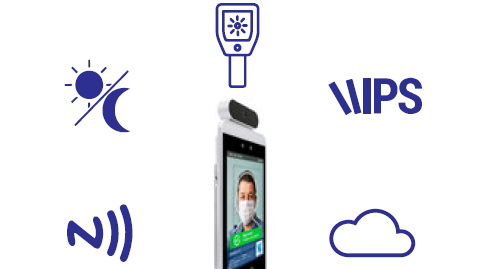 All-in-One Solution
This is a full turnkey system, comprising of a 24/7 IPS panel, dual-lens optical facial recognition cameras, a thermal imaging module, an indication light, optional RFID/NFC integration and even the software to control, record and monitor all the functionality.
System Integration
Using the connection interface, this solution can be integrated with existing door or ticketing systems. Using the software included, you can stipulate entry conditions such as an acceptable temperature range, mask checking and specific user entry or restriction.
Software Included
The software is included at no extra cost and can be easily installed on your own PC or server to maximise security. Create separate login accounts with varying privileges, for example an account can be created for a receptionist to only register visitors. Can also work offline if required.
Accurate Thermal Imaging
The thermal imaging module measures the ambient temperature as well as the user's body temperature to maximise accuracy. The module also features a cooling fan to further improve the precision of the reading. The full sensor temperature range is -40°C to 85°C with an accuracy of ±0.3°C.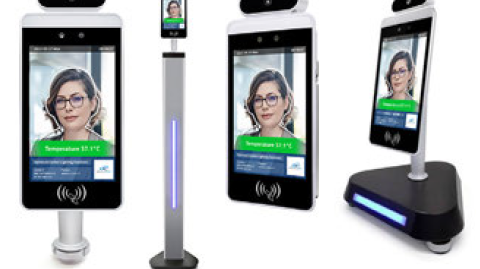 Mounting Options
As standard this solution comes with an adjustable desk mounted pole. Optional mounting options include: a flush fit or adjustable wall mount, a desk stand, or a floor stand. All stand options have a modern integrated blue LED light strip.
24/7 Commercial Grade
This is a truly commercial grade solution as it can be in constant use around the clock. This is ideal for 24/7 commercial locations like supermarkets and gyms, as well as corporate and warehouse settings when used as a clocking in/out system.
Robust Metal Enclosure
To add to its commercial credentials, the enclosure is manufactured using aluminium rather than plastic as this is less likely to be damaged in locations such as warehouses and factory floors.
All in one TEMPERATURE CHECK AND HAND SANITISER DISPENSER
Temperature Check Sensor
Takes 2 seconds from 1-5cm distance with an accuracy of +/- 0.2C.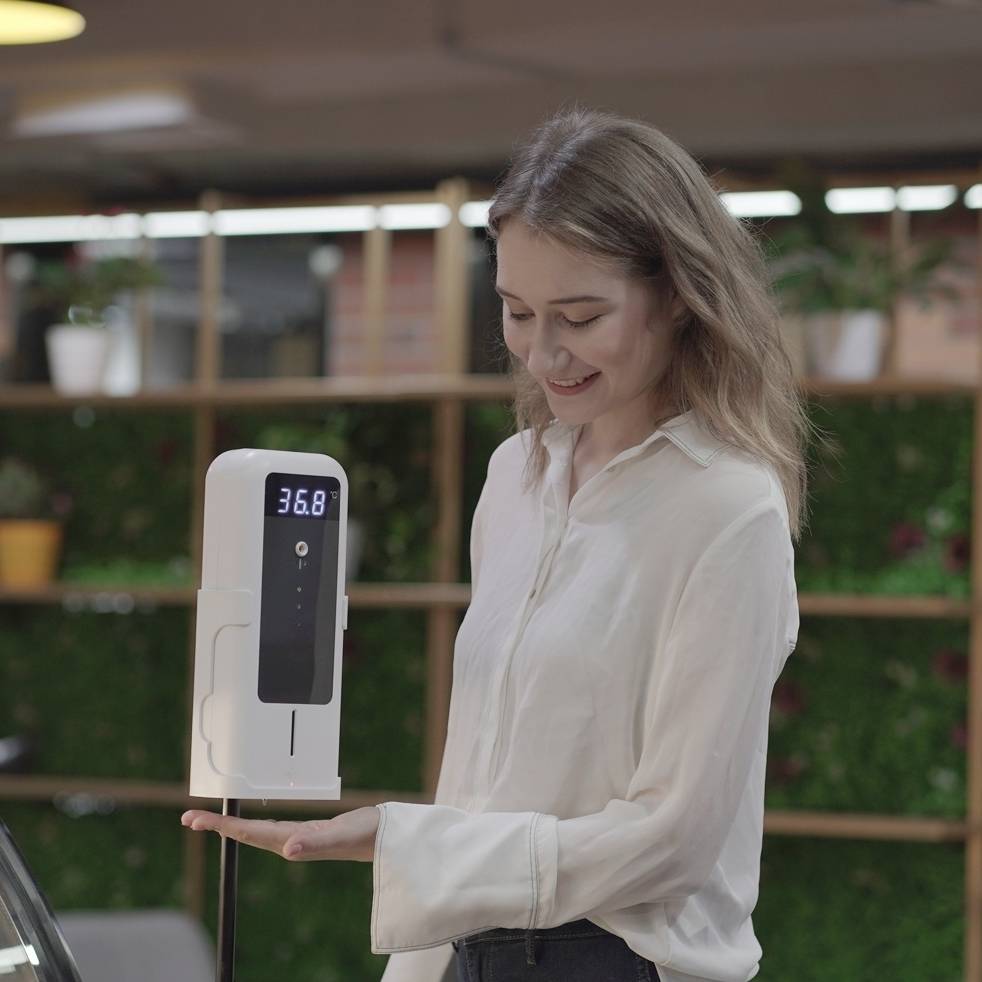 Hand Sanitiser Dispenser
Sanitiser bottle with a 300ML capacity
Use Free-standing or Wall mounted
Also includes Pole stand (the unit is battery or mains powered)
Traffic Light Warning System
Green, Yellow & Red Lighting depending on temperature
Alarm sounds when temperature is over 37.6C
Low & High fever warning alarms
ALL-IN-ONE TERMINAL SOLUTION WITH TEMPERATURE-CHECK AND FACE-RECOGNITION:
All-in-One Terminal with Wrist Temperature-Check and Face Recognition
- Non-contact height adjustable wrist temperature detection module with up to 0.1°C accuracy
- Configure temperature detection threshold value
- Measurement distance is between 1cm to 3cm
- Face, card, password and QR code authentication can be used to control door access
Contact Us for more information & pricing or a FREE ONLINE DEMONSTRATION of selected units: