A sleek, stylish, efficient and user-friendly visitor management system, EntrySign makes signing visitors in and out quicker and easier than ever before. EntrySign improves safeguarding, complies with GDPR regulations and adds a professional finish to your school or organisation.
New innovative solutions to help you screen, sanitise and trace everyone who enters your premises! New Features for the New Normal:
Screen, Sanitise & Trace!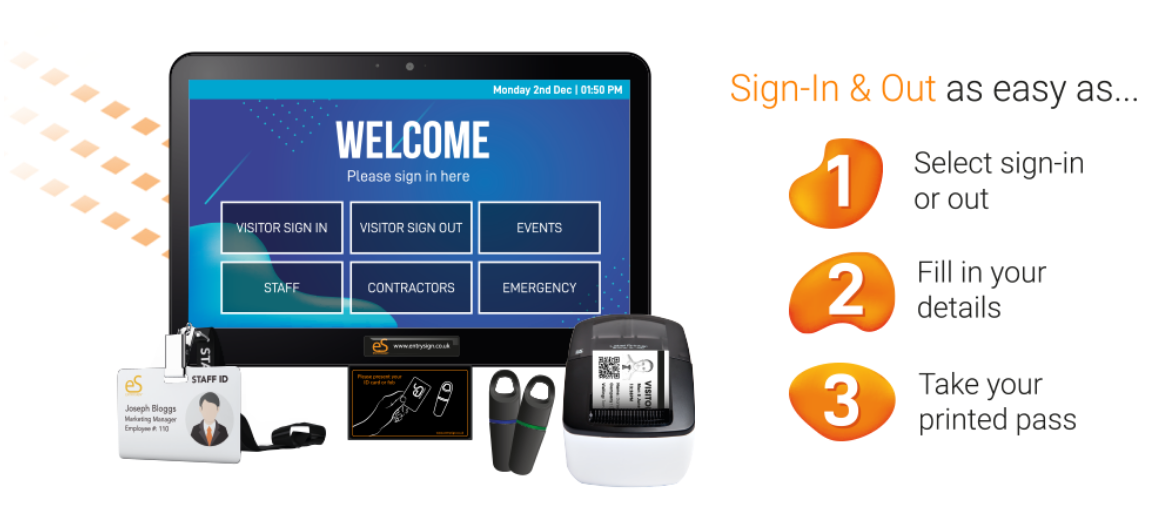 Visitor Management
Signing visitors, contractors, pupils/students and other personnel in and out has never been easier. Quick and easy sign-in/out with self-service touchscreens or contactless cards/fobs.
Safeguarding
Safeguard your organisation with the ability to display visitor policies, request specific data, ask custom questions, capture photographs and signatures and quickly look up accurate data in real-time or historically.
Evacuation Reports
When an emergency situation occurs, such as an evacuation or lockdown, EntrySign ensures everyone can be accounted for. One-click reports can be relayed to multiple printers and/or email addresses, whilst providing a real-time, cloud-based roll call via the EntrySign Live web-app.
Data Compliance
EntrySign's visitor management system boasts data management features that help your organisation comply with complicated data protection legislation such as GDPR. It is configurable to accommodate data protection, retention policies & procedures. Fulfil subject access & erasure requests with ease.
Free-Standing Kiosks can be customised with your logo and colour scheme:
Choose Desk / Wall Mounted or Free-Standing Solutions:
Desk/Wall Mounted Solution: Revolutionise your reception area with our discreet desk/wall mounted visitor management system, that is equipped with a built-in camera, RFID card reader and optional badge printer. Our dedicated design team will customise your front screen sign-in system to match your brand image, adding a professional touch to your welcome area.
Contact Us for a Free online demonstration or bespoke quote. Optional extras include: Touch-Free Sign-in, Temperature Screening, QR Code Reader, Biometrics, Connected sanitiser and custom branding.
Free-standing Kiosk Solution: The practical and modern free-standing kiosk comes with all the comprehensive features of EntrySign's visitor management system, but needs no physical installation. Completely self-contained with integrated RFID reader for use with contactless cards/fobs and optional QR reader for rapid acquisition.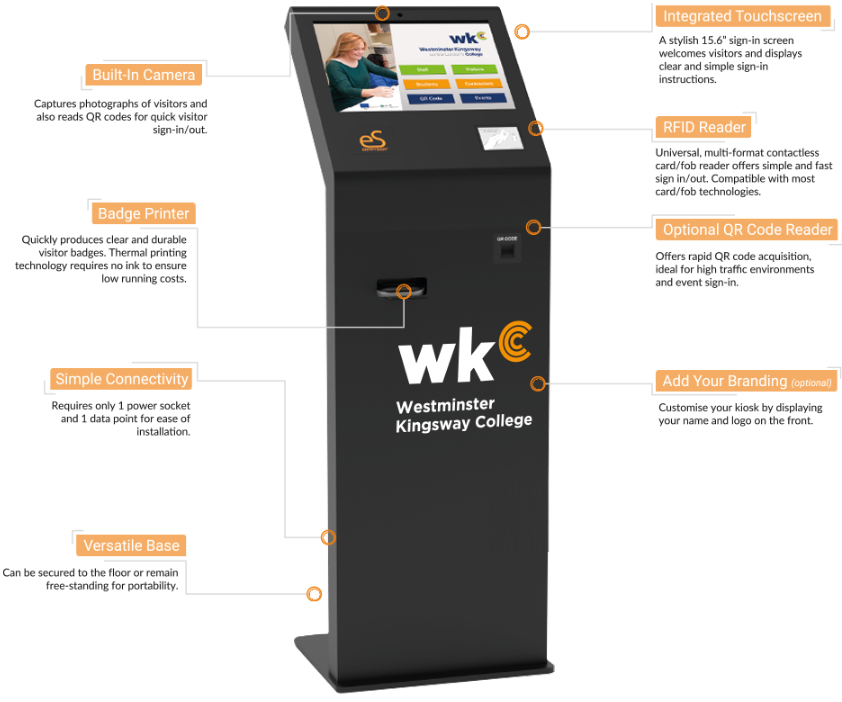 Contact Us for a Free online demonstration or bespoke quote. Optional extras include: QR Code Reader and custom branding.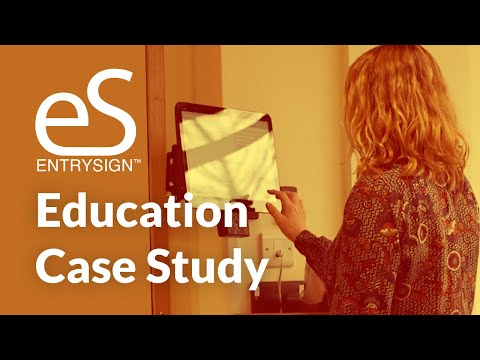 Contact Us for more information & pricing or a FREE ONLINE DEMONSTRATION: