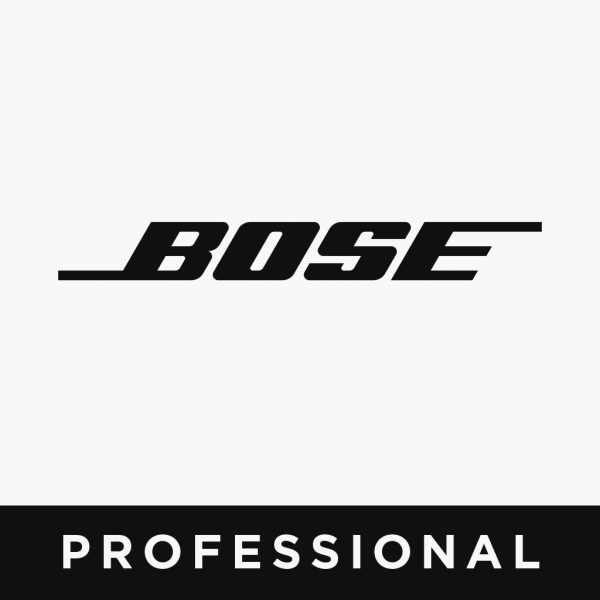 Bose Work Reseller
BOSE WORK: CONFERENCING, CLARIFIED.
Bose Work solutions bring the simplicity and clarity of Bose to conferencing and unified communications. Today the workplace is every place: office, home, car, and coffee shop. So we have solutions that make any meeting better whether people are in the same room or in different hemispheres.
Bose Work products integrate seamlessly with existing platforms, bringing enhanced video and audio performance to popular third-party cloud services. Simplify huddle spaces with all-in-one solutions like the Bose Videobar VB1. Help remote workers feel more connected with desktop and mobile conferencing products like Bose Noise Cancelling Headphones 700 UC. And design fully integrated, high-performance systems for the most demanding rooms using products like Bose ControlSpace Designer software, EdgeMax loudspeakers, and ControlSpace EX processors. Bose Work solutions help teams collaborate more effectively, moving beyond "good enough" audio and video so interactions are more natural and people can hear more, see more, understand more — and work better.
Huddle up and get more done.
From huddle spaces to medium-sized rooms, the Bose Videobar VB1 is an all-in-one USB conferencing device that brings premium audio and video to meetings. With six automatic beam-steering microphones, a 4K ultra-HD camera, and proprietary Bose sound, the Bose Videobar VB1 helps you huddle up and get more done.
View Product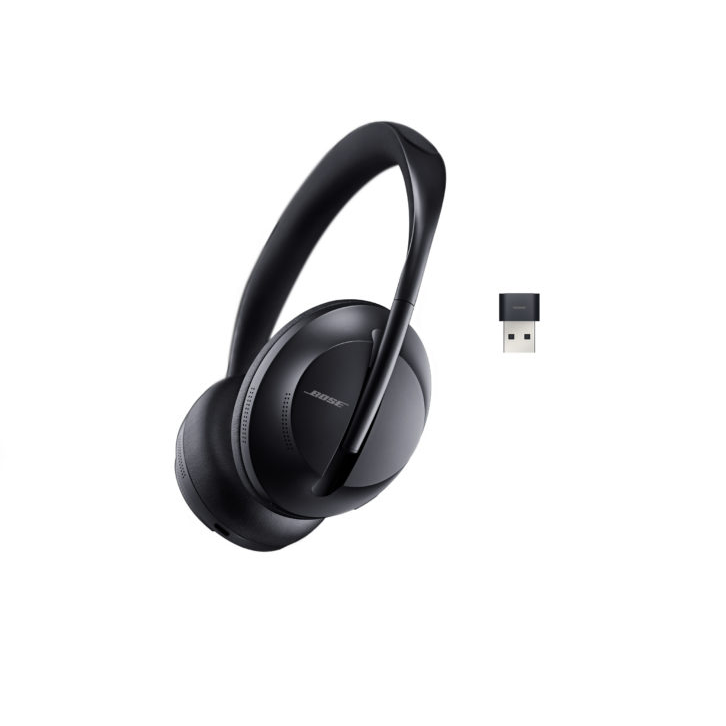 Collaborate with Confidence.
Bose Noise Cancelling Headphones 700 UC equip you to collaborate with confidence anywhere. An adaptive mic system isolates your voice. Instantly adjustable noise cancellation lets you personalize what you hear from your surrounding environment. And the Bose USB Link Bluetooth® module provides a reliable wireless connection.
View Product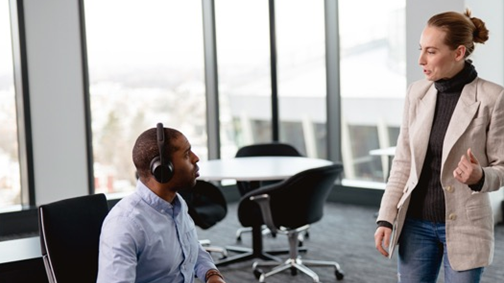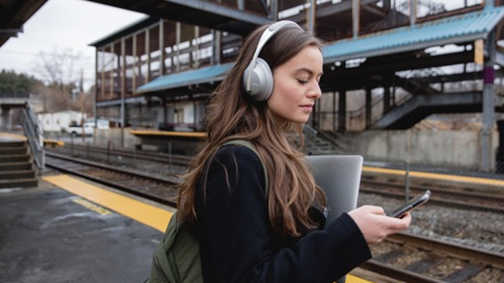 Introducing Bose Work Solutions...
Introducing Bose Videobar VB1...
Introducing Bose Headphones 700 UC...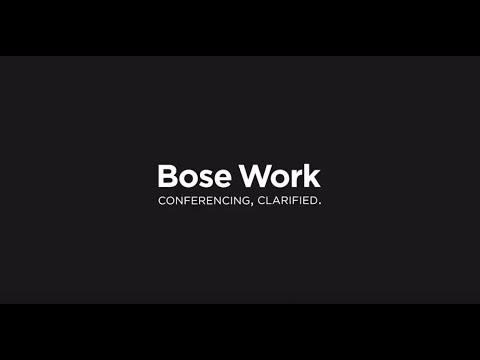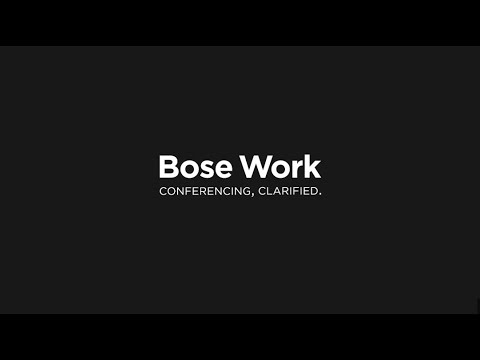 Deliver consistent, premium performance
across a range of solutions to make interactions more natural, make meetings more productive, and help everyone feel more connected and engaged
Offer a simplified conferencing experience
with products that are easier to operate, require less troubleshooting, and reliably facilitate clear communication
Simplify your huddle spaces & meeting rooms
with all-in-one solutions like the Bose Videobar VB1, a premium conferencing device perfect for huddle areas and small meeting rooms
Help remote workers feel more engaged
with desktop and mobile conferencing products like Bose Noise Cancelling Headphones 700 UC that make working in open office spaces productive and enjoyable, switching easily between conversation, voice/video calls, and music
Design fully integrated meeting rooms
using products like ControlSpace EX processors, ControlSpace EX Dante endpoints, EdgeMax loudspeakers, and ControlSpace Designer software
Bring clarity and intelligibility to large meeting rooms
with best-in-class echo cancelling and innovative loudspeakers, so remote meeting participants can hear and understand better
Integrate with popular unified communications platforms
such as Microsoft Teams, Google Meet, Zoom, and more to offer enhanced video and audio performance
Use a brand that you know and trust
offering easy-to-operate conferencing solutions from a globally respected audio company that they already know and recognize as a premium brand
Bose Integrated Meeting Room Solutions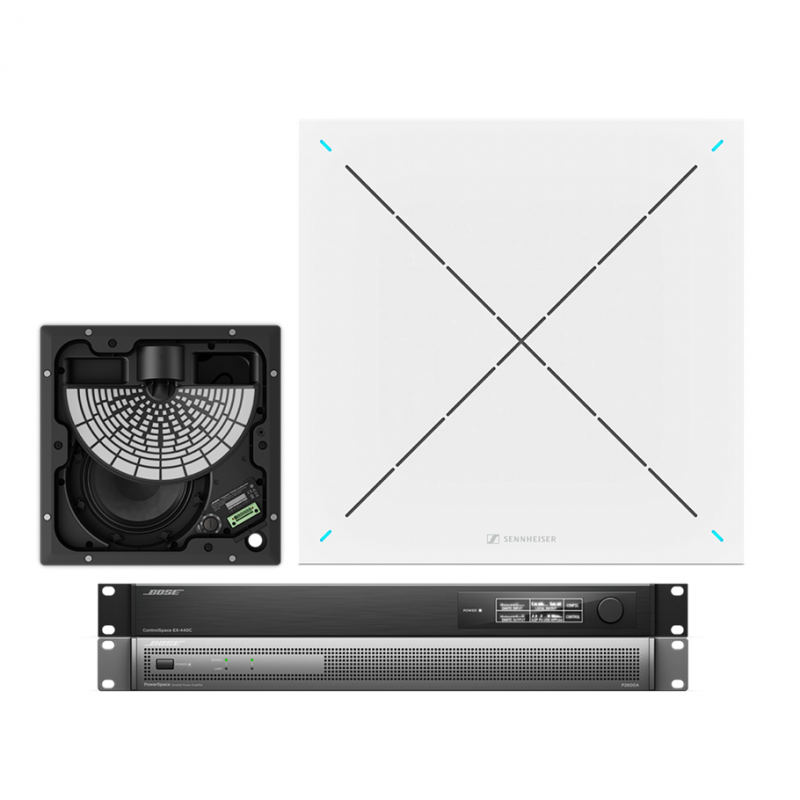 Bose ES1 Ceiling Audio Solution
Microsoft Teams certified
Certified for use with Avaya® and Cisco® VoIP systems
Integrated premium conferencing solution
• EdgeMax EM180 loudspeaker
• Sennheiser TeamConnect Ceiling 2 microphone
• Bose amplifier and DSP


Fewer devices and clutter — focus on work
Clarity and intelligibility in large rooms
Deploy quickly
Bose DS4 Ceiling Audio Solution
Microsoft Teams certified
Certified for use with Avaya® and Cisco® VoIP systems
Integrated premium conferencing solution
• DM2C-LP loudspeakers
• Sennheiser TeamConnect Ceiling 2 microphone
• Bose amplifier and DSP


Fewer devices and clutter — focus on work
Clarity and intelligibility in large rooms
Deploy quickly
DesignMax DM2C-LP
Premium Audio and Aesthetics

True Low-Profile 10 cm (3.9") backcan

UL2043 steel plenum-rated backcan

16Ω, 70/100V

Includes adjustable tile-bridges in box
ControlSpace Conferencing Processors
All-in-one design

Adaptable Noise Cancellation

8-Channels of AEC

Dante Audio Networking

GPI and Serial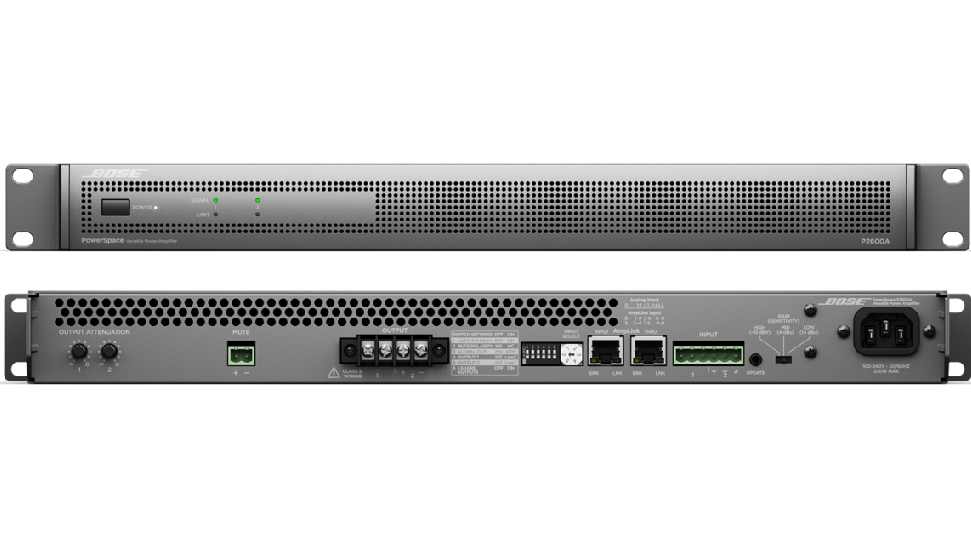 ControlSpace EX-12AEC
2 Channel

600W per Channel

Analog & Amplink Input

High Z & Low Z

Global Mute


CONTACT US TO DISCUSS YOUR REQUIREMENTS